In my last post, I've done some simple calculation on why Quality Score can stretch your marketing budget by 300%. If you missed that, you can check it out right here. This post is meant to be comprehensive so it is longer than our usual posts. But, I promise that after reading this, you will know everything that matters to Quality Score. Let's look at how you can improve it.
Remember, the point of Quality Score is to balance the interests of all parties in the online advertising ecosystem. The factors that affect Quality Score stem from this purpose. Quality Score is influenced by 3 factors: Click through rate, Relevance and Landing Page.
But what in these 3 factors that can improve your Quality Score? Let's look at them in detail.
Click Through Rate (CTR)
In the context of Quality Score, CTR is a way to measure if the search users are interested in your ad. Of course, higher CTR tells Google that search users like what they see and your ad interest them, hence its importance. CTR is also the most important factor that influences your Quality Score so pay attention to it.
CTR is a broad topic but there are only 3 most important factors in CTR that affects Quality Score.
1. CTR of the keyword with the matched ad. In other words, how often does the keyword lead to clicks on your ad?
How to improve: Separate keywords into related themes. If you sell chocolate, you can separate white chocolate, dark chocolate and milk chocolate instead of using generic keyword such as chocolate. Once you have separated the keywords, you can then craft the ad description that matches the keyword.
Check out the screenshot below if you are not sure what keyword and matched ad are: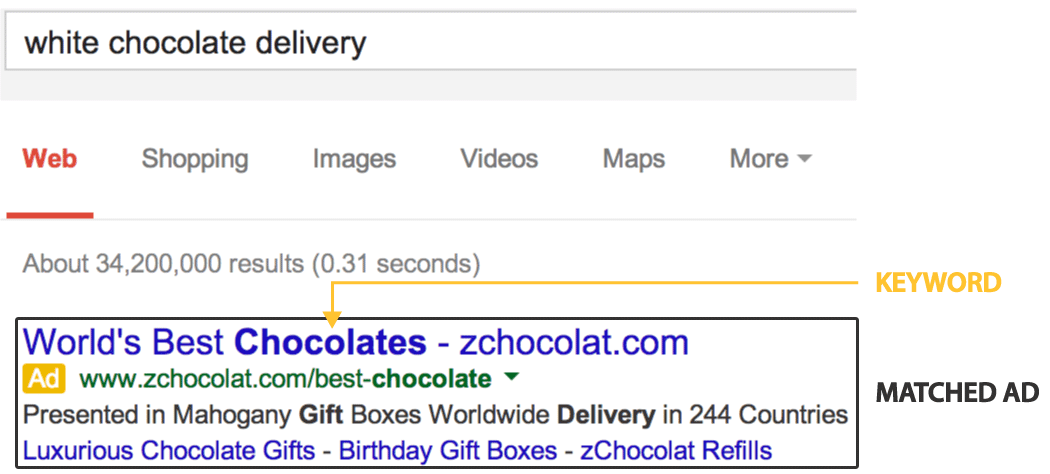 2. CTR of the display URL on ad groups.This means how often have you received clicks with your display URL?
How to improve: Keep your URL relevant. Display URL is a great place to attract attention and show that your website is highly relevant to the users' search query. Search users are more attracted to a URL that is related to the display URL such as www.sweet.com/white-chocolate instead of www.sweet.com or www.sweet.com/2012/%jwefh/
Not sure what display URL is? Check out below: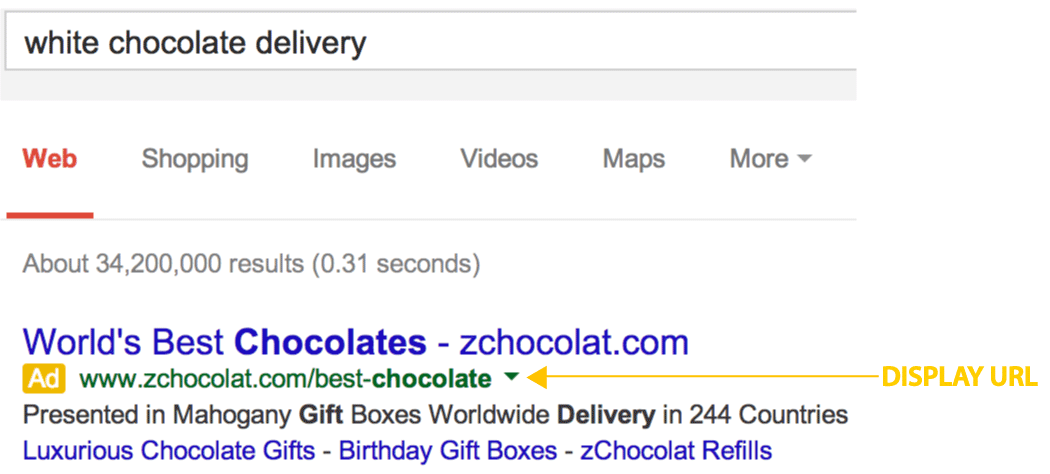 3. CTR of all ads and keywords in your Google Adwords account.
Generic as this may be, it tests the overall performance of your account. I have met some people who has a lot of ad budget and did not feel the need to optimize their campaigns. However, this can hurt you in the long run as it affects your Quality Score.
How to improve: Utilize negative keywords to decrease irrelevant impressions. CTR = total clicks / total impressions. So by decreasing irrelevant impressions, you can help to boost your CTR. How to do this? Let's say you sell white chocolate and you set up your ad with broad match keyword of white chocolate. However, you are getting traffic from people who searched for dark chocolate. One way out of this is to use exact match keyword. However, with exact match, you may not get people who are searching for 'premium white chocolate' or 'smooth white chocolate'. So a better way is to add dark chocolate as negative keyword. This will decrease the irrelevant impressions, hence, increasing your CTR.
Phew…that's a heavy topic to cover. I hope you're still with me. The next two topics will be lighter, I promise.
Relevance
Imagine if you are a search user and you just performed a search for 'white chocolate delivery'. Once you hit enter, you expect that you get websites that are related to delicious white chocolate not (meh) milk chocolate or bitter dark chocolate. This is why relevancy is very important. Besides, having highly related keywords to the search query will improve your CTR as well. Here are 4 components in Relevance that you should take note:
1. Is your keyword relevant to your ad?
The more relevant ad description is to the keyword, the better the outcome.
How to improve? Similar to point 1 in CTR, you need to separate the keywords into themes and craft ad description that is related to each theme. This will help with the CTR of your ad groups.
2. Is your keyword relevant to what the search user was searching?
Here is a good example: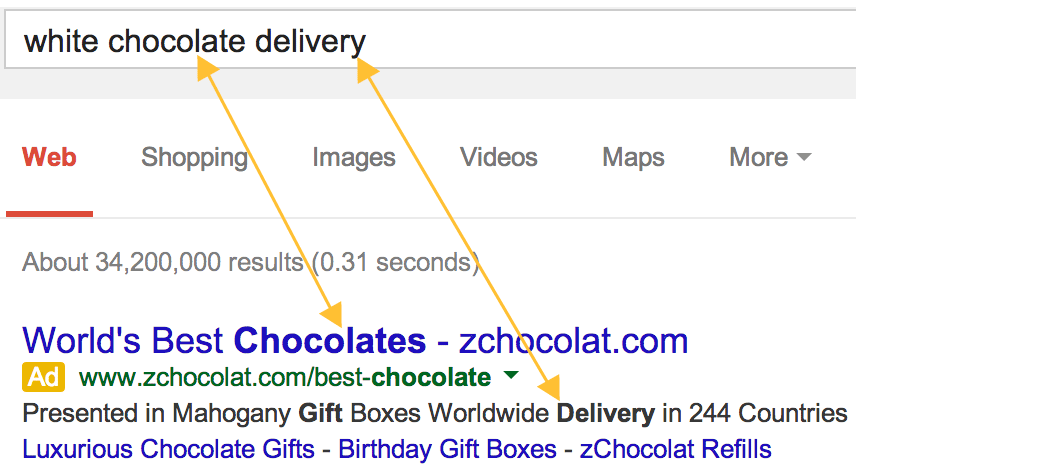 Here is a bad example: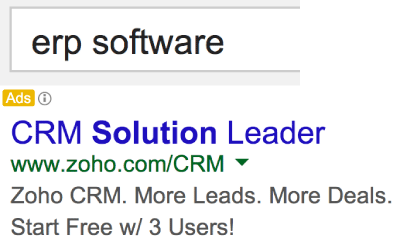 How to improve: Ensure keyword is in the ad headline, ad description and display URL. Your ad is triggered when the search query is relevant to the keyword you bid on. So putting the keyword in the ad headline, ad description as well as display URL will increase the relevancy of your ad.
3. How successful your account has been in the regions you're targeting?
I saw this ad a while ago when I was searching coaching courses in Singapore.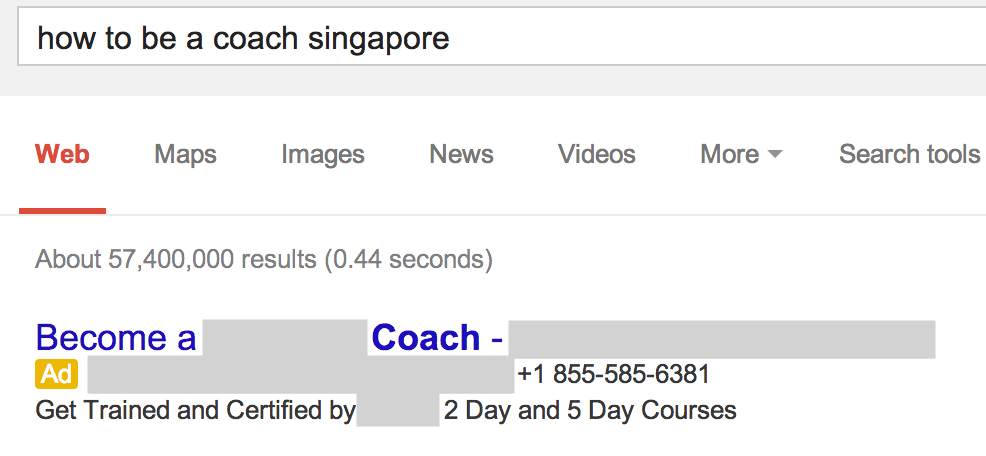 Multiple 'alarm bells' immediately rang in my head when I saw this. For someone performing a search in Singapore, there is very low possibility that I will be making an international phone call to US for something that can be found in Singapore. This not only decreases the CTR of the ad, it also took up precious ad space that could attract more customers to the website.
How to improve: Segment ad groups by geography and ensure message is matched by geography. Some people like to use countries instead of cities. That's ok. However, bear in mind that if you want to know if your ad is more effective in the urban area vs. sub-urban, you may not have enough information if you segment it by country. The more targeted your set up is, the more detailed your data will be. This practice can go a long way to inform your growth decisions.
4. How relevant is the landing page to the search query?
Imagine that you want to buy chocolate online. You saw this ad:

And you click on it and you landed on the homepage with this headline.

What will happen next is:
You don't see white chocolate option at first glance and you don't know where you should look. You feel frustrated and close the browser.
Sale lost!
So, instead of leaving it to chance whether the search user has enough patience to look through a whole myriad of products, why not make a landing page that is solely targeted for the keywords that you are bidding for. This way, you know that people who clicked on the ad will be directed to the page that is exactly what they are looking and they can make the purchase or signup immediately without getting frustrated or distracted. Here is a great post that talks about bad message match.
How to improve: Make specific landing pages for each ad group. For instance, you sell chocolate, you can create a landing page only with white chocolate for the keyword 'white chocolate'. This landing page should have the title tag 'white chocolate' and the relevant products in the page.
At this stage you probably think that this is way too complicated. I started with 3 things that affect your quality score and I've branched out to 7 areas that you need to look at.
Not to worry!
I've designed an infographic to summarize all in this post. You can download it at the end of the post. It also serves as a quick reminder at work too!
Let's cover the last factor on Quality Score.
Landing Page
1. Relevance of landing page to the ad
I've talked about this in the above section on the importance of having landing page that are targeting the keywords of the ad so I will not repeat it in this section.
2. Ease of navigation of the landing page
This is an easy point to tackle. However, how would you know if the users would like to see your catalog on the left or in the center? Would the users like to have the product explanation as they mouse over or would they prefer to see the entire catalog? There is no silver bullet in this except to A/B test different designs.
How to improve: Get visitor feedback. There are tools that allow you see where your customers are clicking such as Clicktale, Netizen Testing, Crazy Egg.
3. Page loading time
Everyone hates to wait for a website to load. Especially when you are on mobile and the data connection is slow.
How to improve: Test page load time and improve the page. A quick and easy way to test the page load time improvement is to use the Chrome Pagespeed Insights.
Great! Now that we have learnt everything there is to know about Quality Score. Let's celebrate with some mouthwatering chocolate!
Photo by: Rego Korosi
Fret not if you can't remember everything in this post. As promised, here is the infographic that can serve as a reminder when you work on your next campaign.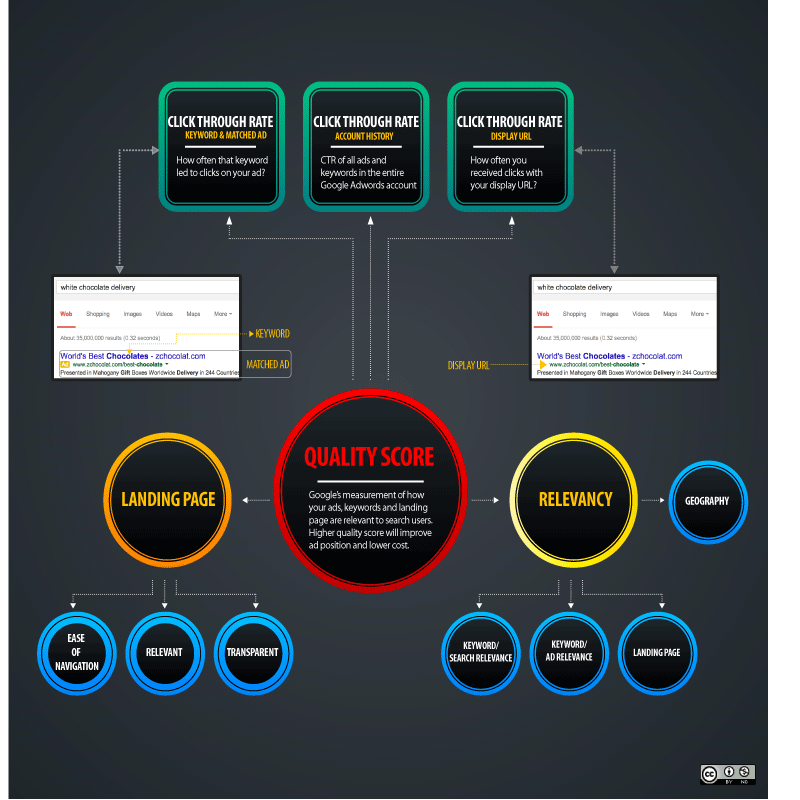 To get the enormous and gorgeous (gorgenormous?) high resolution infographic, click to send a download request directly.