SEO is going to be the last thing in your mind when you want to revamp your website. You will be thinking about what product / service categorization makes sense, what the colour of the background ought to be, how many columns to be used etc. Of course those are very important factors to keeping the visitors within your site. However, no matter how beautiful the website looks like or how well designed the user experience is, it wouldn't amount to anything if there are no visitors coming to the website.
Let me share a case study with you to illustrate the importance of search engine optimization in websites. We have selected 2 keywords for this experiment. Keywords are words or phrases that Google uses to determine what the webpage about thereby ranking the webpage in terms of relevancy to the search query a user input to Google.
This case study started in February 2014. We built content for 2 keywords and we shared the content on prominent websites to get backlinks. We used Moz Analytics to track the keyword rankings for this website. Keyword 1 has an unoptimized page while Keyword 2 has an optimized page.

Here is the result after 16 weeks: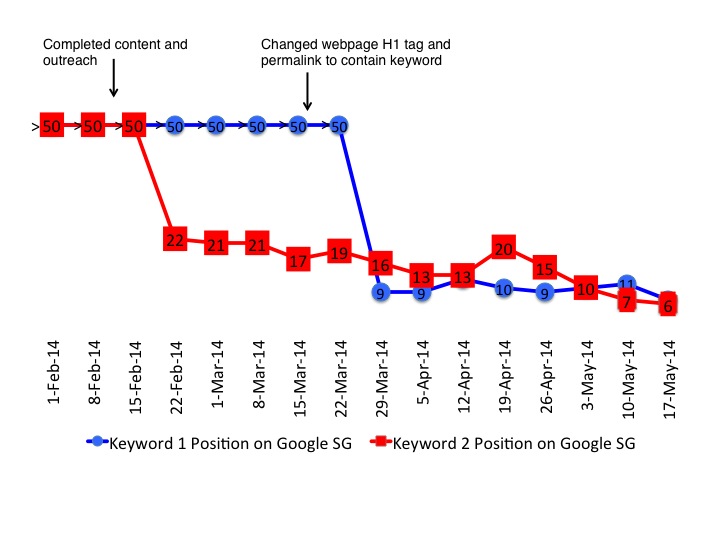 Before website optimization:
Both keywords started with position below Top 50.

Keyword 2's

ranking started to improve in the keyword position after completion of content and link building on 8th February

Keyword 1

did not breach Top 50 position after 5 weeks!
On 18th March, we started optimizing the webpages. We changed the H1 tag and permalinks of webpages for Keywords 1 and Keyword 2. In addition, we plugged some important gaps by creating 301 redirects for pages that had 404 errors. This stopped the site from losing SEO authority through missing pages.

After website optimization:

On 29th March,

Keyword 1

went from below Top 50 to #9 position on Google Singapore.
The rankings for both keywords continued to improve over the following few weeks and remained on the first page of Google Singapore.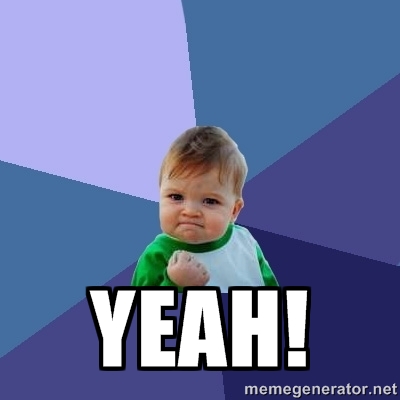 What we see in this case study is that SEO is not only about getting links. Your website plays a big role in getting the ranking. That's why this post will provide you with 11 simple tips to help you optimize your website for SEO.


1. Use Keywords in H1 Tags
H1 is typically used for blog titles or page titles, which tells people what this page is about. Therefore search engines rely on H1 tags to pick up information about the page. A very common element that is missing in webpages is a H1 tag with the keyword.

But, how do you know what keywords work for you? A little bit of research and a few free tools will help in this:

Using Google Adwords Campaigns, you can see a trend in what keywords bring you traffic and what are the search query people performed to get to your website.
Using Google Analytics, you can see search term that people uses that lead to your website. You will need Google Webmaster Tools activated for this.
Using Google Keyword Planner. to discover new keywords, understand the monthly search volume for specific keywords, and provide you with keywords ideas.
2. Add Keywords in URL / Permalink
The URL of a page provides information on what the page is about. Hence, using URL that is short and contains keywords will help search engines understand what your page is about. This will help them to rank how relevant your webpage is to what search users are looking for. The URL is also highlighted in the search results so it's a great way to show to search users that your webpage is relevant to their search.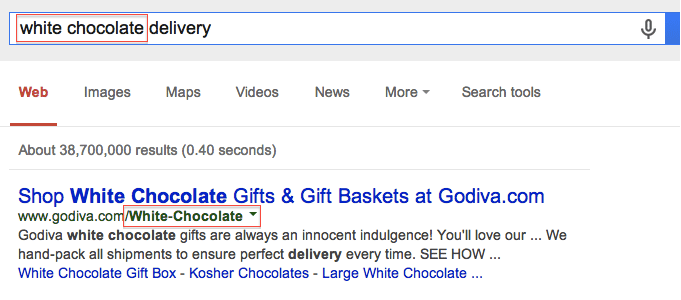 3. Place Keywords at the Beginning of Title Tags
Unique title tags are one of the most important SEO features on webpages. Title tags are often used on search engine results pages (SERPs) to display short, concise phrases for a given page. A Moz study has shown that the closer the keyword is to the front the more helpful it is in ranking.


4.Use unique Meta Description
Meta description helps search engine to know what the page is about in short excerpts. Often times search engine display Meta Description in search results to describe what the website is about in search results. Unique meta description needs to be implemented on every page. Apart from the benefit of search engines, the meta description also helps search users to know what your website is about on the search result page.

For example:

5. Use image Alt text
Image captures attention. However, search engine crawlers are not able to know what the image is about. Alt text is a html attribute that shows when the image isn't able to load. It ought to capture the purpose of the image. For an image of a satisfied customer for example, alt text could be "satisfaction guaranteed" rather than "smiling person". Next time, you enter an image in your website, remember to include the file name, alt text, title, description and caption.

6. Use Structured HTML Markup
Structured markup HTML makes it easy for search engines to understand your website. Schema.org is the markup endorsed by Google. Star ratings on the search results are a category of rich snippets, which can be defined with schema.org.
Here is an example of how it looks like on search results page: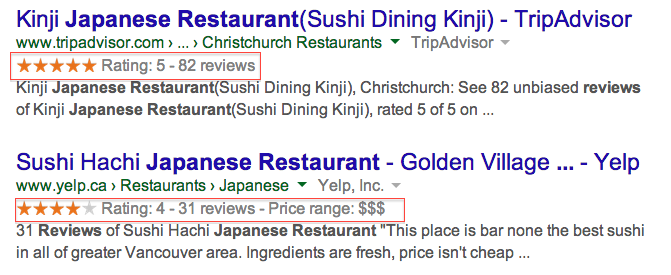 7. Publish Relevant and Fresh Content
Content on your website helps search engine to understand what your website is about. Search engines pick up signals such as keywords in the title, subsection using H1, H2 and H3 tags and the body. So, make use of the these tags to help search engine understand your website.
In addition to signals, the content freshness plays a big role too. Google shows the date of published for content on the search results page.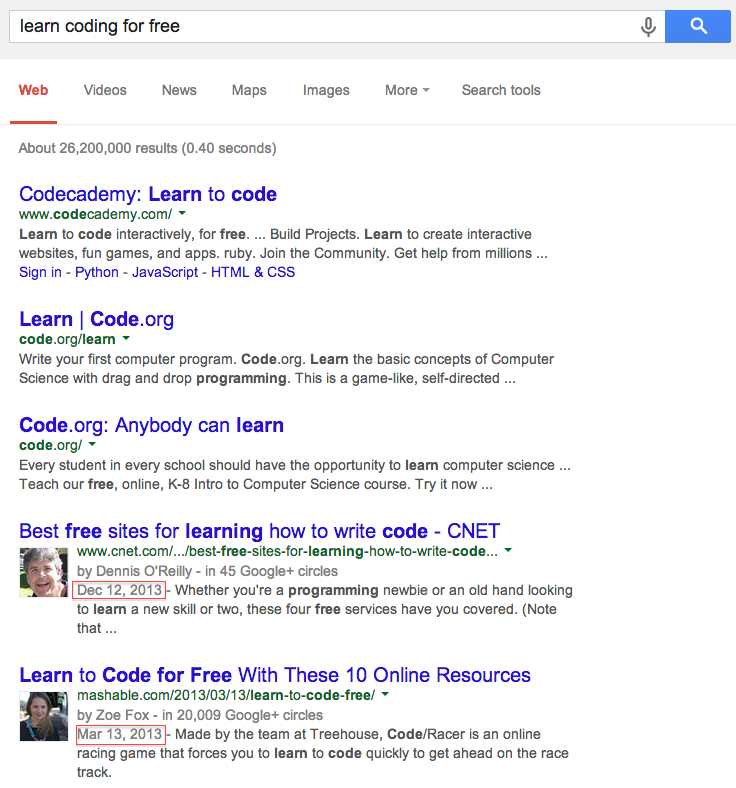 8. Reduce Page Load Time
Nearly half of the web users expects loading time to be less than 2 seconds and they tend to abandon the page if it doesn't load within 3 seconds. This is an important factor not only for SEO but also for general user experience. Here's a resource to check your page load speed.
To reduce page load time, you can compress images and minify javascript to help with decreasing page loading time. Additionally, take a second look at your hosting plan. Most website owners use regular shared hosting, which is cheap but can be slower than a dedicated server. Dedicated servers are expensive though, so consider a middle-of-the-road option like a VPS hosting service. They're cheaper and offer some of the benefits that dedicated hosting does.


9. Encourage Social Sharing
This is a good indicator to search engine on whether your content or your website is interesting to other people. In December 2010, Google started to use social indicators to rank webpages. Having your webpage's URL posted on social websites provide link juice to that page. When more people share this link, it creates more link juice thereby increasing the inbound links for your website. This is the direct positive impact of social sharing. You can make it easy for visitors to share your content by using Open Graph Protocol tags to optimize your content's title, description and picture for more sharing.


10. Create XML Sitemap
This is a place where the search engine crawler can immediately tell what are the pages in your website and rank them by relevancy to their search users. You can create XML Sitemap using this. Include the XML sitemap in your website to help search engine understand your full website structure. You can also define useful metadata such as the priority of webpages, and how frequently you update those pages. These help search engines decide what pages to show and how often to check for updates. You should also include the sitemap.xml in Google Webmaster Tool.


11. Avoid Duplicate Content and Use Static URL (where possible)
A lot of websites uses dynamic URL particularly e-commerce websites. E-commerce tend to have filtering options such as filter by color, sizes, price etc. The filtering options create dynamic URL and duplicate content that confuses search engine on which is the actual content source and which page deserves ranking.


Dynamic URL will look like this:
https://some.dynamic.com/2799681?parent=2799680&path=2799680


Static URL will look like this:
https://some.dynamic.com/partners/topic/2799681


Generally, dynamic URL is harder to optimize for keywords, hence affecting the ranking. One way to resolve duplicate content and dynamic URL is to use the Rel Canonical Tag that tells search engine which page is the authority page.

Here you go, 11 simple tips you can share with your web developers to optimize your website. These optimization goes a long way in helping with your marketing effort.
Is there something I missed on this post? Leave a comment and let me know.